On the morning of February 28th, in the China Textile City Creative Industry Park, Kotex Textile Testing Co., Ltd. in Shaoxing was busy. Vido and Marc from Italy are working with technicians to help customers detect fabrics.

The inspection agency seized Keqiao. "The fabrics were produced by 'Xinfa Textile' and were high-grade fabrics exported to Europe and the United States. The client commissioned us to carry out inspections in accordance with European standards in order to be able to deliver smoothly." Since the company officially opened its business in October last year, it has so far accumulatively tested more than 200,000 meters of textiles, all of which are high-grade fabrics, most of which are commissioned by customers, and some of which are companies with small samples to test and use for research and development.

Kotez is the first professional organization in Italy to detect fabrics by Italian equipment and technology. Yu Kai told reporters that choosing to open a company in Keqiao is to believe that the textile fabrics of China Textile City will accelerate with the transformation and upgrading of the textile industry in our county. With the continuous improvement of enterprise innovation and R&D capabilities, the quality and grade of fabrics will be higher and higher, and the initiative and demand for testing will also increase.

The reporter learned that according to incomplete statistics, currently there are dozens of professional textile testing organizations in Keqiao, and high-end fabric centers like Korea, Japan, and Italy have seized Keqiao and opened branch offices or service centers. The well-known testing organizations in China are engaged in the testing of third-party textiles. This industry is becoming more and more mature in Keqiao, and has a certain effect.

The person in charge of Shaoxing County Baofeng Textile Co., Ltd. told reporters that they are hiring fabric inspection personnel. They hope that all fabrics can pass a relatively professional inspection before they leave the factory, thus ensuring product quality and avoiding unnecessary losses.

The level of detection is increasing. Tao Yuanjie is the CEO of a textile foreign trade company in China Textile City. He told reporters that in the past, the so-called inspection of cloth was actually looking for a few people to start the product, take a cursory look and touch it. It is obvious that many internal defects are hard to find. At present, most companies will have professional inspectors, equipped with some simple detection tools, and some even spend hundreds of thousands of yuan each year, commissioning professional third-party agencies to carry out tests, which shows that textile companies in the city are paying more and more attention to the quality of fabrics.

The staff of Shaoxing Laidhao Textile Testing Co., Ltd. told the reporter that fabric is a product that often suffers from defects. If it appears on garments that have been tailored, it will cause even greater losses. Therefore, it is very important to distinguish the inherent defects of fabrics. important. These intrinsic defects are indistinguishable from the naked eye and feel, and must pass sophisticated professional instruments and techniques.

Yu Kai told reporters that professional inspection agencies will subdivide defects in fabrics to distinguish defects such as needles, crosspieces, warp and weft, sickle, creases, impurities, and scratches, in accordance with European or American standards, etc. These questions are scored so as to evaluate the scores of the fabrics as a whole. There will be special signs on the defects that appear on the cloths so that measures can be taken.

High-grade fabrics also look at the Keqiao many testing agencies and technical personnel told reporters that due to the relatively high fees charged by professional testing agencies, general high-end fabrics will commission them for testing, from the current detection situation, the fabric quality grades and quality of our county are Very good, there are few cases of finding a large number of defects. Under normal circumstances, as long as they are properly repaired, they can pass the inspection. This shows that the quality of high-end fabrics of China Textile City is improving.

The relevant person in charge of the County Quality Supervision Bureau told the reporter that the county's textile products have gradually changed from the original single structure and single function to new products with complex structure, multi-functional and high added value, such as digital printed cloth and new fiber blended fabrics. Cloth and so on. "Especially with the increase of customer's product functions and requirements, many companies are adding various types of additives to textile products in order to develop new types of products. Keqiao's requirements for advanced detection technologies for textiles are getting higher and higher."

The industry believes that third-party textile testing will become a new field in the textile industry of our county. Its prosperity and development also reflect the acceleration of the pace of transformation and upgrading of textile fabrics in our county. In particular, well-known foreign testing agencies have settled down one after another. It shows that our county's innovative ability and level of textile fabrics are in line with the world. Keqiao in the world fabrics will not be too far away.
We are most professional and competitive jeans rivets Manufacturer of China.
Jeans rivets is used in Apparel,shirt,Crafts, Bags,Shoes, suitcase,Sofa,Decoration, and Many Other Uses.
Oeko-Tex jeans rivets
Minimum quantity of jeans rivets :10000pcs /size/color
Very High quality, strong strength,,Eco-friendly
The jeans rivet can be with logo and without logo.
Production capacity of jeans rivet: 2000 gross/day
Available sizes: 9mm,10mm,11mm,12mm,13mm,15mm,17mm,19mm,20mm or according to your demand.
HS Code: 96062200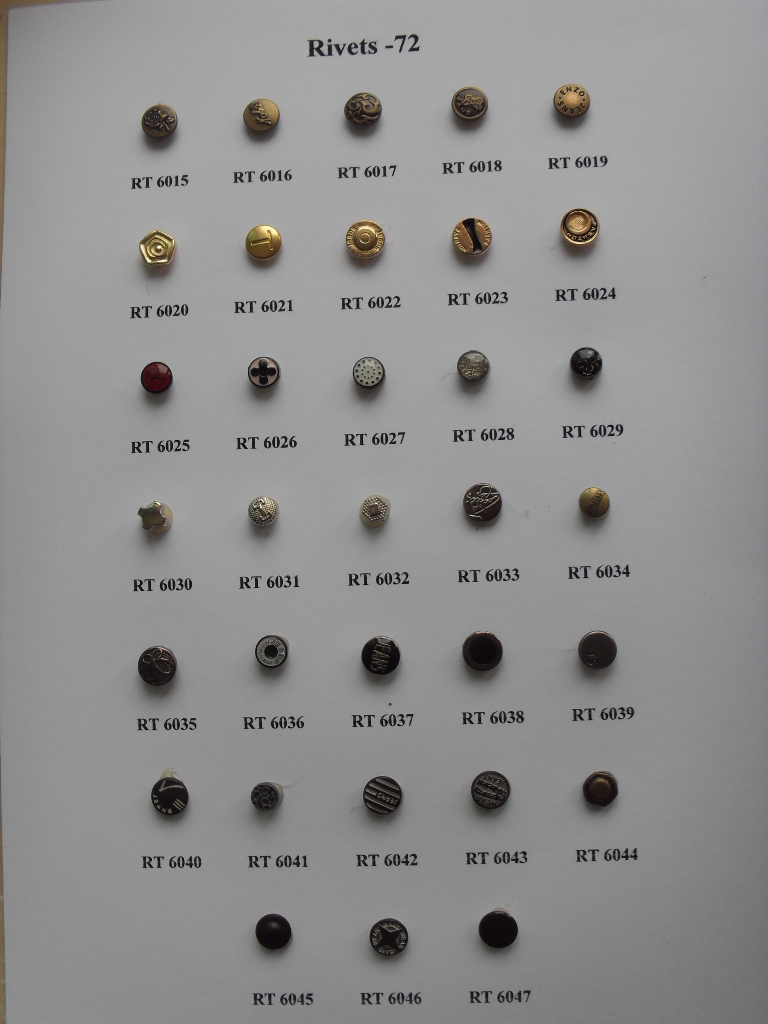 Jeans Rivets
Jeans Rivets,Rivet For Jeans,Jeans Brass Rivets,Metal Jeans Rivet
Boyuan garment accessories co.;LTD , http://www.sealtags.com