2012 New York Fall Winter Fashion Week once again brought us into the printing world. Continuation of the previous season's fashion week's inspiration, even with a heavy autumn and winter colors of the tone of the press conference, do not forget to use printed fabric as the highlight of the entire release and even leading, Tongmu printing, detailed patterns and Blooming flowers can be seen everywhere. Small Prints "As a designer we often like to use the prints, patterns and colors to add energy to the fall." This is what designer Rachel Comey told us before her Fall 2012 show. At the same time, she added: "This time, I tried to replace all these commonly used design elements in order to bring a different autumn flavor to the show." Many designers, like Comey, try printing printed fabrics In the decorative position, but can achieve a distinctive style. This season, exaggerated printing is no longer the absolute protagonist of Comey's entire show, but it also reflects its presence. Comey turned to the fabric of choice, she specialized to the professional fabric factory to pick distinctive fabrics. Among the fabrics she chose, perforated cotton and wool-coated wool brought a lightness to the tops and tights of the season, while a sexy wide-hem skirt with a flash Bright plastic texture of the cortex fabric, just to add a Comey-style weird. A small amount of prints and colors - like the tweed coat used in the color choice of orange, a dress full of surprising pink peach hearts, which brought the whole show visual On the impact. And Steven Alan's Fall Men's and Women's series focus on shabby tailoring and shades of gray and sepia, streamlining the aesthetics of the 1930s. These clothes use a variety of interesting craftsmanship, such as denim washed wool fabric and light large crotch pants. Elsewhere, Alan has also made wonderful improvements to the wardrobe's iconic style, such as using leather as the main fabric for a navy-inspired hoodie jacket. At the same time, women's series followed the concept of men's series. Many men's fabrics are reused here, especially the herringbone tweeds. The girl's temperament of a single product like pleated shorts skirts and attractive long skirts have adopted a masculine Check and soft chiffon printing. In addition, the metal brocade provides a good contrast to the overall low-profile atmosphere. Theyskens' Theory fashion show, the designer Theyskens inspired by the use of the crystal printing. In a sense, it made the blinking golden blouse and the comfortable, zipper-colored metallic tweed jacket look dull. Theyskens' corduroy flared pants showcased on stage last February has become a fashion. This year, the designer's new idea lies in trousers pleats, which he applies to denim shorts and black print trousers, and loosens them into mid-rise leather boots. Multi-level printing ingenious Some people use printed fabrics to do embellishment, some people will print fabric throughout the show floor. Whether it is dress, trousers, or dress, printed fabrics are able to interpret the different "color" style to people through complex and minimalist two different forms of expression. Marc Jacobs has always been New York Fashion Week's most superb performer at this year's fashion show, wool wool under the jacket, and then down the collage of art dress, and finally the bottom of irregular tailoring pants. The color layout is complicated and diverse like a map; the printing pattern is even across the giant, complicated and gorgeous wool-patterned lines and pencil-graffiti, all hand-made appliqués overflowing with all kinds of dress dresses. Always known for printing Suno, this season's two classic styling is a flower pattern suit jacket with loose hanging pants, and the golden wave dot shirt with childlike print skirt is a good party look; Boy and Girl At this press conference, Scott Sternberg, Band of Oursiders' designer, showed us the southwestern style of the United States, including a water-dyed dress and a white jumpsuit decorated with small butterflies. Pudal Garung at the conference still continued his dark and gorgeous sense of the Dark Department of style, black and blue abstraction Line patterns and soft hanging silk fabric fusion, making the original soft and elegant silk dress with a little cult means. In the Jenny Packham show, gold and black with a beaded decorative tailoring dress and printed silk flowers are particularly memorable; Thakoon Panichgul originally dignified camel coat, this season has used in the collar of the purple leopard Pattern, and concise conjoined but in the shape of sleeves and playful feather pattern to see the designer's ingenuity; Derek Lam in the main librarian styling this season with a warm kitchen printing short Skirt suit, and collar with a bright red print dress; Rag and Bone's designer collections David Nevile and Marcus Wainwrigh will be printed on the different levels of use, arrows, diamonds and iris pattern carpet printing, plus the Indian style Skirts, and pants as a match, the level of rich but not messy. Editor's Note: I remember a designer a few years ago said: fabric trends in the next few years will be light and thin; recall last October Shanghai Fabric Exhibition, many exhibitors products have blurred the boundaries of autumn and winter, spring and summer ; With the autumn and winter of 2012 major fashion week released, will have been gradually get rid of dark colors, heavy sense of autumn and winter fashion, once again to the elegant, gentle twist, in some conference, people have been difficult to distinguish the seasonal ... ... All the signs show that although autumn and winter and spring and summer still have their own characteristics, the seasonal difference of textile fabrics is gradually diminished, which provides various fabric suppliers with different R & D direction in the past.
Sports/Gym Towels are your best friends when you running, doing yoga or other physical training. We owned the advanced weaving machines & Jacquard equipment which enable us to produce high quality products. the Sports Towels are easy-carry, nice hand feeling and highly absorbent. The standard size

30*80 cm; 30*100 cm, also can be customized.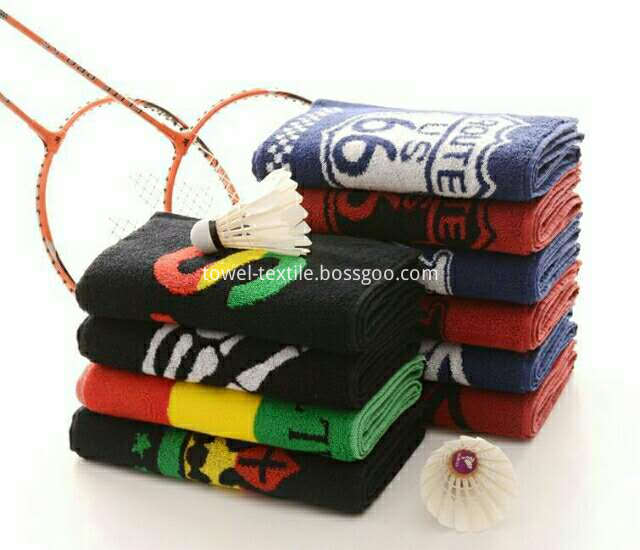 Sports/Gym Towels
Sports Towel,Gym Towel,Cleaning Towel,Square Towel
Gaoyang Dongfei Textiles Co., LTD. , http://www.textile-towel.com